SEASON TEN, EPISODE ELEVEN – COMPOSER/GUITARIST, BENJAMIN VERDERY
In this episode, I talk with composer and guitarist Benjamin Verdery about his ONE track – Scenes from Ellis Island.  We listen to a recording featuring Benjamin and Simon Powis on guitars, Guilherme Nardelli Monegatto on cello and Hawa Kasse Mady Diabate on vocals.
LINKS:
IF YOU ENJOY BENJAMIN'S MUSIC, PLEASE CONSIDER BUYING THE PHYSICAL MEDIA!
LISTEN TO BENJAMIN ON SOUNDCLOUD!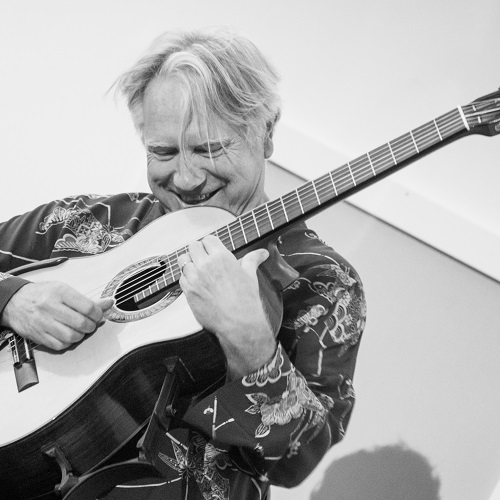 Hailed for his innovative and eclectic musical career, Benjamin Verdery tours regularly throughout the US,
Canada, Europe and Asia, performing at venues and festivals including Ottawa ChamberFest, 92Y
Kaufmann Auditorium, Verona Guitar Festival, Guitar Festival of Belgrade, International Festival
Internacional de Guitarra de Taxco (Mexico), Theatre Carré (Amsterdam), the International Guitar
Festival in Havana, Wigmore Hall (London), and Metropolitan Opera in New York.
As a recording artist, Ben has released more than 17 albums. His most recent, Scenes from Ellis Island,
Guitar Music of Ben Verdery (with the premiere recordings of Ben's newest compositions) was released
by New Focus Recordings in February 2020, together with a video of the recording's title piece, Scenes
from Ellis Island. Other recordings include The Ben Verdery Guitar Project: On Vineyard Sound (ECR),
featuring Ben performing music by his composer colleagues at Yale University's School of Music as well as
one his own compositions; Happy Here with William Coulter; Branches, featuring works of Bach, Strauss,
Jimi Hendrix, Mozart and the traditional Amazing Grace; Start Now (2005 Classical Recording Foundation
Award); Some Towns & Cities (winner of Guitar Player Magazines Best Classical Guitar Recording 1991)
and collaborations with John Williams (John Williams Plays Vivaldi) and Andy Summers (First You Build a
Cloud). Upcoming recordings include Bryce Dessner's Quintet for High Strings (coupled with Ben's
arrangement of Leonard Bernstein's Clarinet Sonata for guitar and string quartet).