SEASON FIVE, EPISODE TWO – COMPOSER, ROBERT MCCLURE
In this episode, I talk with composer Robert McClure about his ONE track – In Excess.
LINKS:
IF YOU ENJOY ROBERT'S MUSIC, PLEASE CONSIDER BUYING THE PHYSICAL MEDIA!
LISTEN TO ROBERT ON SOUNDCLOUD!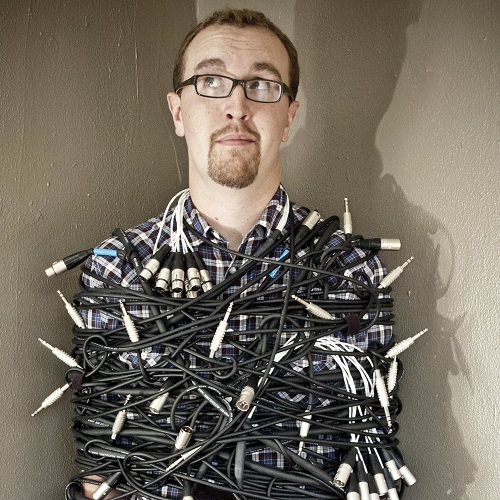 Visual art, poetry, the natural world, neurological and mathematical concepts are all elements that influence McClure's works. His work has been featured at festivals including the New York City Electronic Music Festival, the Sonorities Festival of Contemporary Music, the Toronto International Electroacoustic Symposium, SEAMUS, and ICMC (International Computer Music Conference).
Recently, his work for large orchestra titled, Warning Colors, was selected for performance by the Hong Kong Philharmonic as part of the 2016 Intimacy of Creativity Festival where he was a Composer Fellow. Desert Miniatures: Insects for three bassoons was named a winner in the 2015 Bassoon Chamber Music Composition Competition.
His works may be found through ADJ·ective New Music LLC, Bachovich Music Publications, Imagine Music Publications, Innovative Percussion, Media Press, Inc., Resolute Music Publications, and Tapspace Publications as well as on the ABLAZE and Albany Record labels.
In addition to his composition activities, Robert is the host/producer of the ADJ·ective New Music podcast, Lexical Tones; a weekly conversation with a guest composer, performer, and/or artist creating new works of contemporary art/music that focuses on aesthetics, technique, process, meaning, perception, and the musical origins of the featured guest. The podcast can be found on iTunes, Stitcher, and Soundcloud.
Robert received his doctorate from the Shepherd School of Music at Rice University where his primary mentors were Shih-Hui Chen, Arthur Gottschalk, and Kurt Stallmann.Robert has previously held positions at the Shanghai Conservatory of Music and Soochow University in Suzhou, China. He currently serves as an Assistant Professor of Composition/Theory at Ohio University.