SEASON FIVE, EPISODE ELEVEN – COMPOSER, ASHA SRINIVASAN
In this episode, I talk with composer Asha Srinivasan about her ONE track – Dviraag.  We listen to excerpts from a recording by Terra Voce.
LINKS:

IF YOU ENJOY ASHA'S MUSIC, PLEASE CONSIDER BUYING THE PHYSICAL MEDIA!
LISTEN TO ASHA ON SOUNDCLOUD!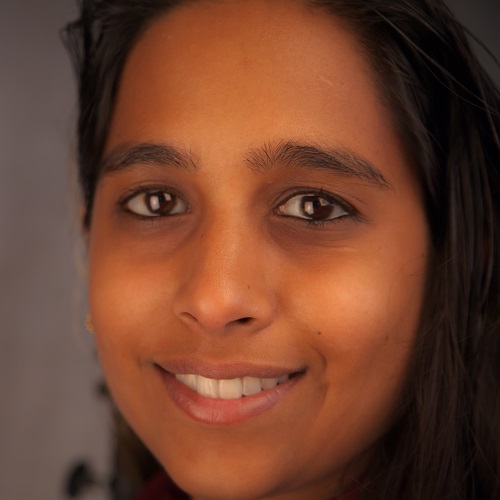 … is an Indian-American composer and Associate Professor of Music (Theory/Composition/Electronic Music) at Lawrence University, Appleton, WI.
I have been involved with music since my early childhood in India. My extended family on both of my parents' sides are musical. My mother Lalitha is currently a professional singer of Indian film songs and sings all over the U.S. When I was in India, at age 6, I started taking vocal lessons in Carnatic music (the classical music of Southern India).
After moving to the U.S., I was introduced to Western classical music through the public school system. In high school, I had the opportunity to take my first Music Theory class. What was supposed to be theoretical part-writing exercises turned into compositional experiments for me and thus sparked my passion for creating music. I am enthralled by the possibilities of integrating aspects of the Carnatic style into the Western music idiom. Thus, I draw from my Western musical training and my Indian heritage to create my compositional language.
My works have been released on CD by Ablaze Records, Mark Records, Beauport Classical, and SEAMUS CD Series. My composition Dviraag was recognized as winner of the Flute New Music Consortium competition in 2015 and the Ruam Samai award at the Thailand International Composition Festival in 2011. Other credits include the BMI New Music Commission Competition, Flute/Cello Commissioning Circle call for scores, the Walsum competition, the Prix d'Ete competitions, and ASCAPlus Awards. I have had compositions performed at ICMC, June in Buffalo, SEAMUS, National Flute Convention, North American Saxophone Alliance, among others.