SEASON FOUR, EPISODE TWO – COMPOSER, DANIEL FELSENFELD
In this episode, I talk with composer Daniel Felsenfeld about his ONE track – Benedictus from his Astrophysical Mass.
LINKS:
IF YOU ENJOY DANIEL'S MUSIC, PLEASE CONSIDER BUYING THE PHYSICAL MEDIA!
LISTEN TO DANIEL ON SOUNDCLOUD!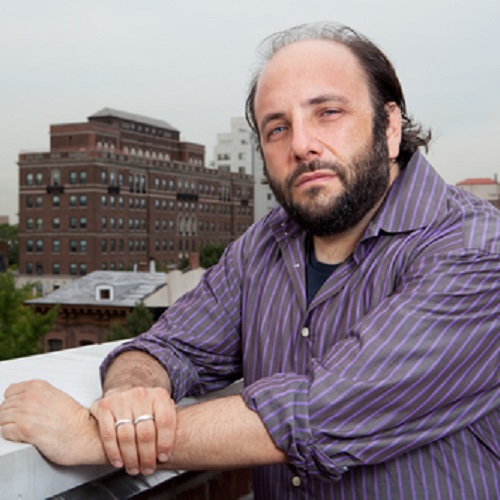 Composer Daniel Felsenfeld (b.1970) has been commissioned and performed by Simone Dinnerstein, Opera On Tap, the Chorus of Trinity Wall Street, Metropolis Ensemble, Meerenai Shim, Two Sense (Lisa Moore and Ashley Bathgate), ASCAP, San Jose Opera, ETHEL, Great Noise Ensemble, American Opera Projects, the Da Capo Chamber Players, Transit, Redshift, Nadia Sirota, Blair McMillen, Two Sides Sounding, Parhelion Trio, Alcyone Ensemble, Friction Quartet, Kristin Elgersma, Eleanor Taylor and Jen Devore, Holly Chatham, Momenta Quartet, Nouvelle Ensemble Moderne, Cornelius Duffallo, Stephianie Mortimore, Mellissa Hughes, Corey Dargel, Jenny Lin, New York City Opera (VOX), ACME, Redshift, New Gallery Consert Series, Gabriella Diaz, Sarah Bob, Jody Redhage, Caroline Worra, New England Conservatory Philharmonic in venues such as Carnegie Hall, Galapagos Art Space, The Kimmell Center, Jordan Hall, the Kitchen, Miller Theatre, Stanford University, Harvard University, The Stone, Brown University, Le Poisson Rouge, City Winery, and the Kennedy Center in Washington, D.C. as part of the BEAT Festival, MATA Festival, Make Music New York, 21c Liederabend, Opera Grows in Brooklyn, New Brew, Serial Underground, and John Wesley Harding's Cabinet of Wonders. Future projects include pieces for Sequitur (based on unpublished writings of David Foster Wallace), an opera based on the life of Dr. Kinsey for Opera on Tap, Kathy Supove, Michael Zegarski, Great Noise, Ashley Bathgate and Ensemble 212, Vocallective, Cadillac Moon Ensemble and Vision Into Art.