SEASON FOUR, EPISODE TWELVE – COMPOSERS, PATRICK BURKE & EMILY PINKERTON
In this episode, I talk with composer Patrick Burke and composer/songwriter Emily Pinkerton about their ONE track – Pretty Polly.  We listen to excerpts from a recording by Emily Pinkerton and NOW Ensemble, from their album, Rounder Songs.
BUY THE ALBUM!
LINKS:
IF YOU ENJOY PATRICK AND EMILY'S MUSIC, PLEASE CONSIDER BUYING THE PHYSICAL MEDIA!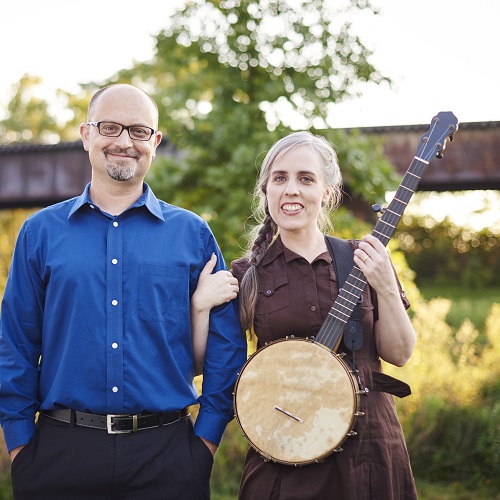 Patrick Burke, a composer with a background in classical, popular, and folk music traditions, writes music for film and other media,
orchestras, bands, and his own group—NOW Ensemble—which he co-founded in 2004.  His music is deeply influenced by the films of
certain directors (David Lynch, Maya Deren, Alejandro Jodorowski, etc.) , and often employs a dream logic.  Patrick's current focus is on
collaborations with musicians from other genres, which is on full display in Rounder Songs, co-composed with his wife, Emily Pinkerton,
and performed by Emily and NOW Ensemble.  The recording was released on November 17, 2017, on New Amsterdam Records, and has
gained critical acclaim from John Schaefer on New Sounds (twice), the Pittsburgh Post-Gazette, textura (Top 10 EPs of 2017), No
Depression, and PopMatters.
Emily Pinkerton's driving force as a songwriter and ethno-musicologist is to explore the musical and social ties that bind the Americas. For two decades, she has traveled between the U.S. and Chile, playing fiddle, banjo, guitar and guitarrón.
In her solo, Pinkerton writes songs that blend Appalachian and Andean traditions. She draws on studies with legendary musicians Alfonso Rubio, Chosto Ulloa, Patricia Chavarría and others, including extensive fieldwork with rural poet-singers of central Chile. Performance highlights include concerts at Sala América in Santiago, Chile, the Panama jazz Festival and Merkin Hall in New York with Venezuelan violinist Eddy Marcano.