SEASON THREE, EPISODE ELEVEN – COMPOSER, ARMANDO BAYOLO
In this episode, I talk with composer Armando Bayolo about his ONE track – Semblance of a Sonata, for clarinet and piano.
LINKS:
IF YOU ENJOY ARMANDO'S MUSIC, PLEASE CONSIDER BUYING THE PHYSICAL MEDIA!
LISTEN TO ARMANDO ON SOUNDCLOUD!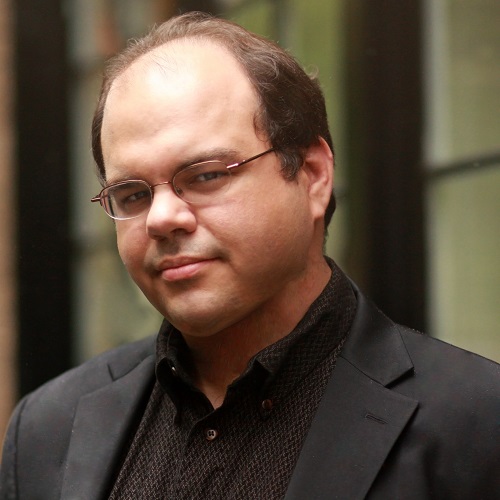 Born in 1973 in Santurce, Puerto Rico to Cuban parents, composer Armando Bayolo began musical studies at the age of twelve. At sixteen he went on to study at the prestigious Interlochen Arts Academy in Interlochen, Michigan, where he first began the serious study of composition. He holds degrees from the Eastman School of Music (B.M. 1995), where his teachers were Samuel Adler, Joseph Schwantner and Christopher Rouse; Yale University (M.M. 1997), where he studied with Roberto Sierra, Jacob Druckman, Ingram Marshall and Martin Bresnick; and the University of Michigan D.M.A. 2001) where he studied with Michael Daugherty, Bright Sheng and Evan Chambers.
Mr. Bayolo's music, which the Washington Post hailed as radiant and ethereal, "full of lush ideas and a kind of fierce grandeur (which unfold) with subtle, driving power" and which the Charlotte Observer says "deserves to be played many more times and in many more places" encompasses a wide variety of genres including works for solo instruments, voices, chamber and orchestral music. His music has been commissioned by the Aspen Music Festival, the National Gallery of Art, the Syracuse Society for New Music, the Western Piedmont Symphony Orchestra, the South Jutland Symphony Orchestra, the Euclid and Degas Quartets, Duo 46, The Percussion Plus Project, the Puerto Rico Symphony Orchestra and others and has received a number of performances at important venues such as the Aspen Music Festival, the Library of Congress, the National Gallery of Art and the John F. Kennedy Center for the Performing Arts, Galapagos Art Space and Symphony Space, and, in 2011-12, Barge Music and Weill Hall at Carnegie Hall.