SEASON TWO, EPISODE FOUR – FLUTIST, MEERENAI SHIM
In this episode, I talk with flutist Meerenai Shim about her ONE track – Flight of the Bleeper Bird by composer and chip tune artist Matthew Joseph Payne.  We listen to excerpts from Meerenai's recording The Art of Noise, available on CD, digitl download, as well as on the COOLEST 7″ RECORD I'VE EVER SEEN.
BUY THE ALBUM!
LINKS:
IF YOU ENJOY MEERENAI'S MUSIC, PLEASE CONSIDER BUYING THE PHYSICAL MEDIA!
LISTEN TO MEERENAI ON SOUNDCLOUD!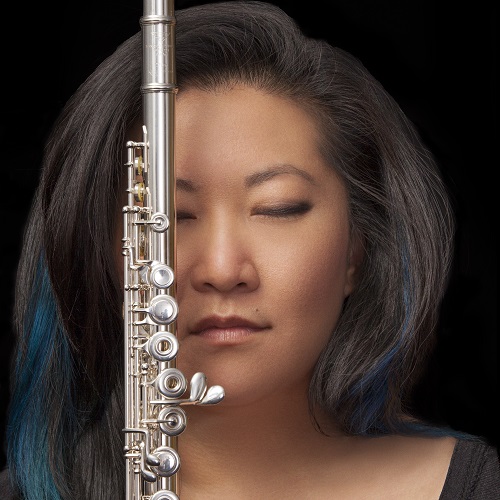 Milky Way or Galaxy are traditional Korean translations of the first name of flutist Meerenai Shim. Pronounced "me-ren-ay," the unusual name befits this unique and forward thinking musician.
Meerenai is a founding member of the innovative flute and percussion duo, A/B Duo. In 2016, she joined the award-winning contemporary flute ensemble, Areon Flutes. She has performed all over the United States as a soloist and chamber musician. Recent performances include the Soundwave Biennial in San Francisco, the Bang on a Can Summer Festival, the National Flute Association's Annual Conventions, and numerous universities. In addition to regular broadcast of her recordings on classical radio stations, Meerenai's recordings and performances have been featured on Music from Other Minds, Live from WFMT, and New Music Box.
In 2015 Meerenai founded Aerocade Music, a record label specializing in contemporary classical, electronic, and experimental music. Her third solo album, the all-electroacoustic Pheromone, is the first release on the label. Regarding Pheromone, Fanfare Magazine says, "Flautist Meerenai Shim has the chops and the heart to do these recently composed pieces full justice, and this inaugural release on her own Aerocade label is the proverbial proof of the pudding."