SEASON THIRTEEN, EPISODE ONE – COMPOSER, ANDREA REINKEMEYER
In this episode, I talk with composer Robert Paterson about her ONE track – Smoulder.
LINKS:
IF YOU ENJOY ANDREA'S MUSIC, PLEASE CONSIDER BUYING THE PHYSICAL MEDIA!
LISTEN TO ANDREA ON SOUNDCLOUD!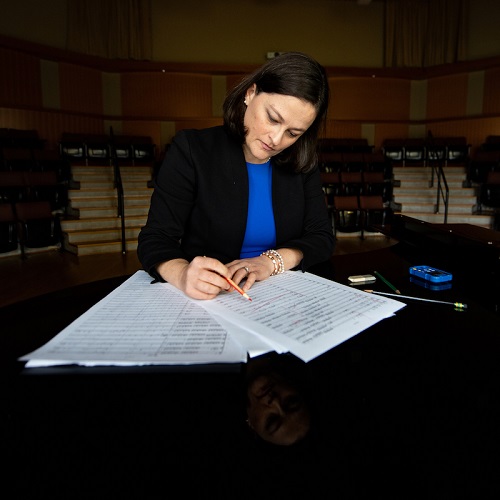 The music of American composer ANDREA REINKEMEYER, DMA (Dr. – she/her) "offers a luminous glimpse of the next world" (Fanfare Magazine); it explores "a reverent sound world that hovers just above the brink of silence" (Second Inversion), using "spare, melancholy passages to traverse a complex emotional landscape" (Eugene Weekly), "from reverence and supplication to mournfulness despair" (textura), and praised as "clever, funky, jazzy and virtuosic" (Schenectady Daily Gazette), "magical" (Fanfare Magazine), "enchanting" (International Choral Bulletin), and "hauntingly melodic and fun, dancing and almost running its way forward… whimsical" (Fanfare Magazine). Her current musical explorations focus on intersectional feminist narratives, natural phenomena, home and grief.
Reinkemeyer's music is distributed by the ADJ•ective Composers' Collective and featured on recordings by: Society of Composers Inc. (Navona Records), In Mulieribus, Idit Shner (Origin Arts), and Aerocade Music releases by the A/B Duo and Post-Haste Reed Duo. Upcoming projects include new works for flutist Abigail Sperling with generous support of the Oregon Arts Commission. Recent commissions include: League of American Orchestras and Louisiana Philharmonic Orchestra with support from the Virginia B. Toulmin Foundation, an opera scene for Rhymes with Opera, Albany (NY) Symphony Orchestra, H. Robert Reynolds and The Detroit Chamber Winds & Strings, Fear No Music, Lacroute Arts Series at Linfield College, Rodney Dorsey for the University of Oregon Wind Ensemble and University Singers, a thirteen-school wind band consortium led by Brant Stai and the Sherwood High School Wind Ensemble, Miller Asbill and the Texas Tech University Concert Band, The Wild Swan Theater, Jeffrey Heisler for the Primary Colors Trio, and many performers and visual artists. Her works are regularly performed nationally and internationally; featured performances include: New Music Gathering, American Composers Orchestra Underwood New Music Readings, North-South Consonance Chamber Orchestra, Great Noise Ensemble, Thailand International Composition Festival, and conferences of the International Alliance of Women in Music (IAWM), Iowa Music Teachers Association, Society of Composers, Inc. (SCI) and Society of Electro-Acoustic Music in the United States (SEAMUS).