SEASON ELEVEN, EPISODE NINE – COMPOSER, DAVID GUNN
In this episode, I talk with composer David Gunn about his ONE track – The Conchoid of Nicomedes.
LINKS:
IF YOU ENJOY DAVID'S MUSIC, PLEASE CONSIDER BUYING THE PHYSICAL MEDIA!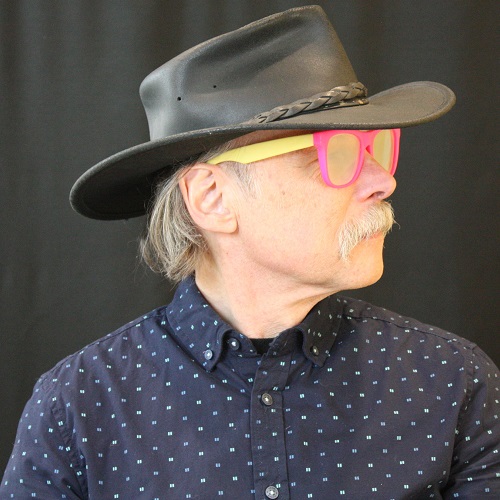 David Gunn has written for symphony orchestra, chamber ensembles, adventurous vocal groups, theremin, solo viola, and Ray Bradbury's Pandemonium Theatre Company, though his professional flute-playing spousal unit helped channel his flute-centric oeuvre. Turns out, this was a good moeuvre. I mean move. His first tune for flute choir won the inaugural National Flute Association's Flute Choir Composition Competition, which involved a pecuniary award, always a plus. For 10½ years, Gunn co-hosted the radio show Kalvos & Damian's New Music Bazaar, which won an award once. Or twice, actually. In 2003, Albany Records released Somewhere East of Topeka, a CD of Gunn's early chamber music performed by the Vermont Contemporary Music Ensemble. Brisk sales are anticipated any day now. Exactly ten nearly-to-the-hour years later, he and his previously mentioned if not specifically identified spousal unit founded the chamber music series Vermont Virtuosi, whose concerts—according to the always spot-on Barre-Montpelier Times Argus—"are now among the most rewarding chamber music performances in the state." Vermont Virtuosi musicians are also featured on Gunn's second compact disc, "The Third Highway." In 2017, Fomite Press published "Cautionary Chronicles: An Illustrated Compendium of Human Striving," Gunn's book of "very short, humorous fiction" that adds up to "a funny trip" [Seven Days]. Like Albert Einstein and Chubby Checker, Gunn is an alumnus of Settlement Music School in Philadelphia. Unlike them, he claims ancestry to Eyetein Glumra Throndein "The Noisy," King of Norway. Meanwhile, Gunn lives simultaneously in Barre, Vermont, and in hope of, in order, peace on earth, good will towards men, and a pile of cash in the bank.