SEASON NINE, EPISODE TWELVE – ENSEMBLE, DITHER
In this episode, I talk with electric guitar quartet Dither about their ONE track – Mi-Go by Joshua Lopes.  We listen to a recording by Dither from their Potential Differences album.
BUY THE ALBUM!

LINKS:
IF YOU ENJOY DITHER'S MUSIC, PLEASE CONSIDER BUYING THE PHYSICAL MEDIA!
LISTEN TO DITHER ON YOU TUBE!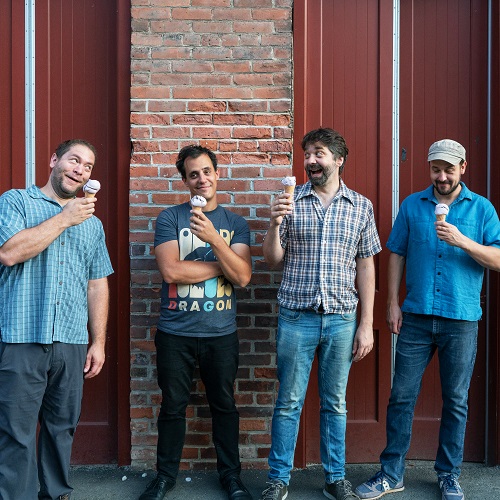 DITHER, a New York based electric guitar quartet, is dedicated to an eclectic mix of experimental repertoire which spans composed, improvised and electronic music. Formed in 2007, the quartet has performed across the United States and abroad, presenting new commissions, original compositions, multimedia works, and large guitar ensemble pieces. Dither's members are Taylor Levine, Joshua Lopes, James Moore and Gyan Riley.
Dither has performed and collaborated with a wide range of artists including Eve Beglarian, Nels Cline, Fred Frith, Mary Halvorson, David Lang, Ikue Mori, Phill Niblock, Lee Ranaldo, Lois V. Vierk, Yo La Tengo, and John Zorn. They have brought their live 13-guitar rendition of Steve Reich's Electric Counterpoint to The Barbican Center, Lincoln Center Out of Doors, The Ellnora Guitar Festival and WNYC's New Sounds Live. The quartet has also performed at the Guggenheim Museum, the Bang on a Can Marathon, The Performa Biennial, The Amsterdam Electric Guitar Heaven Festival, Hong Kong's Fringe Theater, The Winter Jazz Festival and the Borealis Festival.