SEASON EIGHT, EPISODE EIGHT – COMPOSER, CHRISTOPHER STARK
In this episode, I talk with composer Christopher Stark about his ONE track – Maple.  We listen to a recording by the Unheard-of//Ensemble.
LINKS:
IF YOU ENJOY CHRISTOPHER'S MUSIC, PLEASE CONSIDER BUYING THE PHYSICAL MEDIA!
LISTEN TO CHRISTOPHER ON SOUNDCLOUD!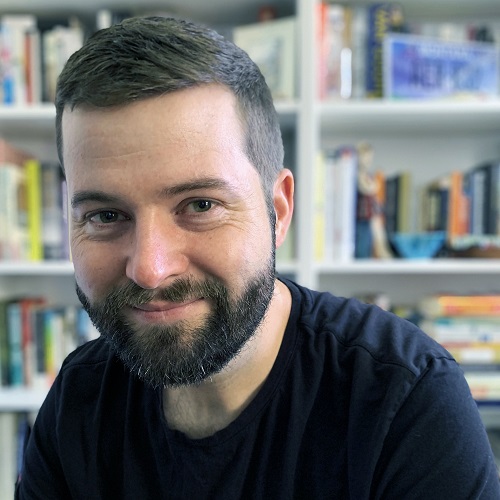 Christopher Stark (b. 1980, St. Ignatius, MT) is a composer of contemporary classical music deeply rooted in the American West. Having spent his formative years in rural western Montana, his music is always seeking to capture the expansive energy of this quintessential American landscape. Stark, whose music The New York Times has called, "fetching and colorful," has been awarded prizes and commissions from organizations such as the John SimonGuggenheim Memorial Foundation, the Fromm Foundation at Harvard, Chamber Music America, the Orléans International Piano Competition, ASCAP, and the Barlow Endowment. Named a 2017 "Rising Star" by the St. Louis Post-Dispatch, his music has been performed by such ensembles as Alarm Will Sound, American Composers Orchestra, Arctic Philharmonic, Buffalo Philharmonic, Los Angeles Piano Quartet, Left Coast Chamber Ensemble, Oberlin Contemporary Music Ensemble, Momenta Quartet, New Morse Code, FLUX Quartet, and the Aspen Contemporary Ensemble. In 2012, he was a resident composer at Civitella Ranieri, a fifteenth-century castle in Umbria, Italy, and in June of 2016 he was awarded a residency at Copland House. Recent highlights included performances at the 2016 Santa Fe Chamber Music Festival and at the Whitney Museum of American Art as part of the 2016 NY Phil Biennial. Stark recently completed a three-month residency in Bergen, Norway where he worked with members of the BIT20 Ensemble from the Bergen Philharmonic on a new string quartet, and in 2019 he will write a new work for the Los Angeles Philharmonic, to be conducted by John Adams at Walt Disney Concert Hall. His score for the feature-length film, "Novitiate," premiered at the Sundance Film Festival in January of 2017 and was theatrically released in October by Sony Pictures Classics. Stark is currently Assistant Professor of Music at Washington University in St. Louis.