SEASON TEN, EPISODE TWO – COMPOSER, OLIVIA KIEFFER
In this episode, I talk with composer Olivia Kieffer about her ONE track – Pop Rock in Metal.  We listen to a recording by the Donald Sinta Quartet.
LINKS:
IF YOU ENJOY OLIVIA'S MUSIC, PLEASE CONSIDER BUYING THE PHYSICAL MEDIA!
LISTEN TO OLIVIA ON SOUNDCLOUD!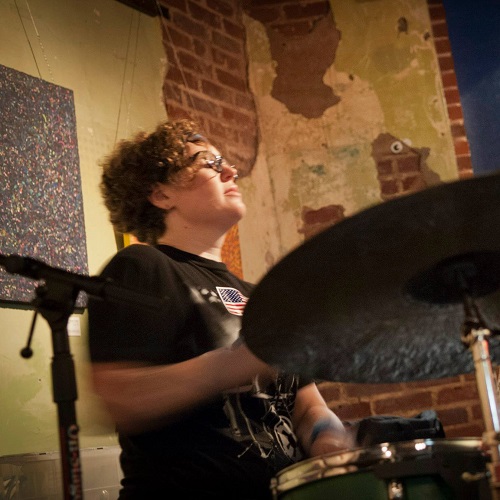 Olivia Kieffer is a composer, percussionist, educator, and writer. A native of Wisconsin, her music has been described as "immediately attractive," "like a knife of light," and "honest, to the point, and joyful!"
Olivia is former adjunct music faculty at Reinhardt University (2009 – 2017). She studied percussion at University of Cincinnati College-Conservatory of Music and Georgia State University, and she studied music composition at University of Wisconsin-Milwaukee and University of Miami. Her musical mentors have included percussionists Allen Otte and Stuart Gerber, and composers Marc Mellits, Douwe Eisenga, William Susman, Jon Welstead, Charles N. Mason, and Lansing McLoskey.
She feels at home in both the classical and rock worlds, and was an active performer in Atlanta's vibrant contemporary classical music scene for over a decade, including her work as bandleader and drummer for the 7-piece chamber rock band Clibber Jones Ensemble. She is a long-time member of the Chix With Stix Percussion Group. She also performed regularly with the Terminus Ensemble and Bent Frequency, and 2015-2017 was co-director of the Reinhardt Contemporary Arts Festival and Atlanta's SoundNOW Festival, as well as serving on the Music committee at Eyedrum Music & Art Gallery, where she curated the Composer's Concert Series.
Olivia is perhaps best known for her toy piano books which contain 127 miniatures; "The Texture of Activity," and "Playing the Changes," and for her post-minimalist concert band piece "…and then the Universe exploded." Since 2012, her compositions have been performed both nationally and internationally. She has been commissioned by Mid America Freedom Band; guitarist Darren Nelsen; percussionists Brandon Dodge, Nathaniel Gworek, and Colleen Phelps; toy pianist Amy O'Dell; smol ensemble; GremlinsDuo; A/B Duo; fivebyfive; Charlotte New Music Festival; The New Music Conflagration; saxophonist Nicki Roman; tubists Bill Pritchard and Josh Sevigny; the SENSORIA series at UW-Milwaukee; Bent Frequency Duo Project; flutist Laura Lentz; the "Pop Rock in Metal" sax quartet consortium; and the Bowling Green State University New Music Ensemble.
Her projects and compositions have been highlighted in Journal for the International Alliance for Women in Music, ArtsAtl, TomTom Magazine, Wide Circles podcast, WABE-FM (90.1), Eyedrum Periodically, listening to ladies, Moving Classics TV, Music, Polyphony, and Polyrhythm, and the 1track podcast. She is a guest contributor to NewMusicBox and EarRelevant. In 2017 Olivia was Composer in Residence at the Florida International Toy Piano Festival and the Mana Saxophone Institute.