SEASON NINE, EPISODE SIX – COMPOSER, AMIR MAHYAR TAFRESHIPOUR
In this episode, I talk with composer Amir Mahyar Tafreshipour about his ONE track – Broken Times, performed by members of the Fidelio Trio.
LINKS:
IF YOU ENJOY AMIR'S MUSIC, PLEASE CONSIDER BUYING THE PHYSICAL MEDIA!
LISTEN TO AMIR ON SOUNDCLOUD!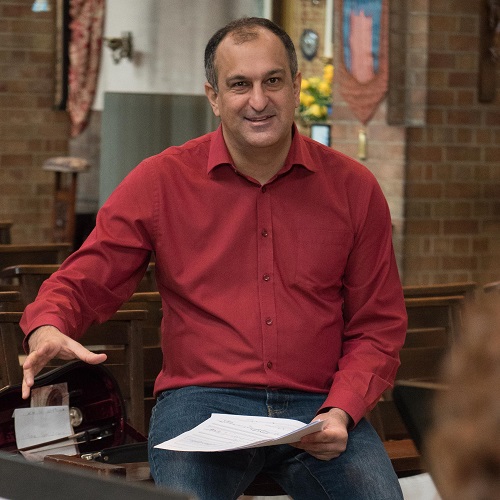 Amir Mahyar Tafreshipour is a leading Iranian contemporary composer. He specialises in contemporary music that reaches across time and continents and has worked with a number of major ensembles, soloists and orchestras. In 2003 he won the first prize at the biennial  composition competition for new music at Tehran University with his solo piano work 'Images of Childhood' and in the same year he was awarded a silver medal for outstanding achievement at Trinity College of Music.
The BBC commissioned a Harp Concerto in 2005, which was premiered under the baton of Pascal Rophé and broadcast on BBC Radio 3. His opera THE DOLL BEHIND the CURTAIN, based on a work by the Persian modernist writer Sadeq Hedayat and libretto by Dominic Power was premiered at the 'Tete a Tete  Opera Festival' in King's Place,2015 in London. Amir Mahyar has studied Piano and Composition at the Esbjerg Academy of Music, Trinity College of Music, Guildhall School of Music and Drama and in 2016 he completed his PhD in composition at Brunel University, London, under the supervision of Dr. Christopher Fox. He is Currently working on a Violin concerto based inspired by Balouch music of east Iran and also his second opera, based on the struggle between the Anglo-Iranian Oil Company and Iranian prime minister Mohammad Mossadegh.